Backer Marathon Schedule for May and June 2020
Posted On
May 08, 2020
by
Melissa Lopez-Barnes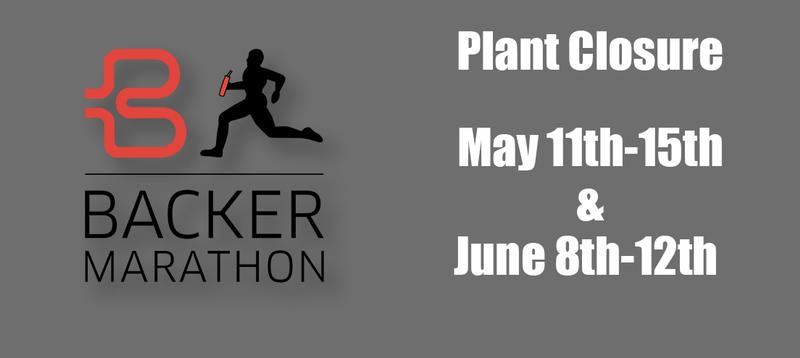 We hope you and yours are doing well and staying safe amid the tragic spread of the novel virus COVID-19. Additionally, we continue to take measures to keep all of our employees safe as we take the threat of the spread of the Coronavirus seriously.
Backer Marathon has tekn steps to help the economic impact that COVID-19 has had on us as a manufacturer. We have made the difficult decision to close our plant for one entire week in May and June, 2020. We tried to create a plan that would have the least economic impact on everyone. One of our biggest concerns is retaining our current workforce….a workforce full of experienced, knowledgeable, and loyal employees. As our situation changes, so could these plans. However, we always want to give our partners as much notice as possible.
Our tentative plans are as follows:
Plant Closure May 11th-15th, 2020 and June 8th-12th, 2020
During our plant closure, we will be able to accept and ship only available stock items via web order through our Customer Portal. Any stock orders that we do not have enough quantities to fulfill the entire order, will be processed and shipped when we are re-opened. We will have only minimal staff available to receive incoming packages, and ship outgoing stock orders.
As with any traditional furlough, none of our staff will be available during our closure. However, with proper credentials to our Customer Portal via our website, each customer account user will have access to the following:
Stock Price and Availability

Order History through My Account

Pricing Options from our Pricing Wizard

Expedite Options from Pricing Wizard and My Parts

Order Status (Including Tracking Information)

Technical Support from our Engineering Calculator or Options page
Furthermore, any Purchase Orders or Requests for Quotes received during our plant closure will be processed in the order the email/fax was received as soon as we resume our regular business hours.
Again, this was not an easy decision, but we believe this arrangement will work best for all interested parties. Thank you for your continued support, and stay safe!