Backer Marathon Schedule for June 2020
Posted On
June 01, 2020
by
Melissa Lopez-Barnes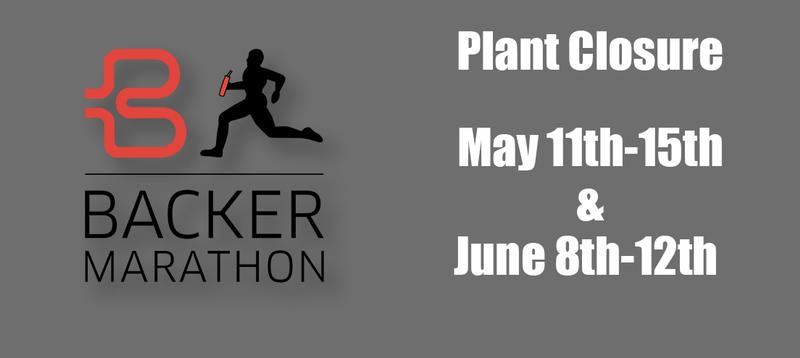 Hello Everyone,
As we mentioned last month, we made tentative plans to be closed for one week in June and we have decided to keep those plans. However, there is one noticeable change to report for this scheduled closure. We will NOT be available to ship ANY orders during our June closure.
This closure is a traditional furlough and none of our staff will be available during our closure between June 8- 12, 2020. This means no one will be monitoring emails, or be available for phone calls. However, please do continue to submit your purchase orders and request for quotes, as they will be addressed in the order they were received when we return to the office on Monday, June 15th, 2020.
Also important to note, are the digital resources available for quoting price and availability. Each customer account is assigned login credentials to our Customer Portal via our website and is given easy access to the following :
Stock Pricing and Availability

Ability to quote any product line from the Pricing Wizard

Expedite Options from Pricing Wizard and My Parts

Order History through My Account

Order Status (Including Tracking Information)

Technical Support from our Engineering Calculator or Options page
* If you are in need of login credentials, then please contact us before Noon CST on June 5, 2020.
We appreciate everyone's continued support and understanding, and we hope everyone is staying safe while trying to slow the spread of COVID-19. As always, please feel free to contact us with any questions or concerns regarding this scheduled plant closure.
Thank you,
Backer Marathon Sales/Marketing Manager